Your medical professional has recommended an exercise program for you at Active Bodez. Now what?
Click here to complete the form for a free initial consultation with one of our degreed trainers or Registered Dietitians to create a plan on what services will help you reach your health and fitness goals.
See Active Bodez Advantage for more on how we are different and check out our member success stories.
---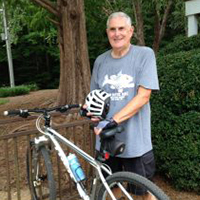 The workouts at Active Bodez help me at age 79 to continue to hike, bike and kayak 5-6 days per week. If you have a medical condition they adjust your workouts to accommodate you. At another fitness center I tried years ago, no one seemed to notice whether I was there or not. Not so at Active Bodez! When you have to miss, they want to know.
–
Gordon
---
Active Bodez is the Cheers of gyms. We've tried many times to get into a gym schedule but with no real success. The positive, encouraging atmosphere is really a great motivator.
–
Jordan and John
---
I am in my eighties and after a recent MRI my doctor said my films are of a woman thirty years younger. Active Bodez has been my life line for 14 years and is a very big part of why I am in excellent health.
–
Sandy
---
I've been to plenty of gyms but Active Bodez is the first one I stuck with. I live in Northern Durham, but I continue to come here because it works for me. 
James has lost over 100 pounds!
–
James